Air pollution leads to many diseases and environmental problems that adversely affect human health. Tackling air pollution is important to ensure a healthy environment and a sustainable future. One of the first step that should be conducted is monitoring outdoor air pollution and it is quite crucial to assess pollution levels, identify sources and take appropriate measures. 
Monitoring data helps improve decisions and policies around air quality and supports efforts to ensure a cleaner and healthier environment. For comprehensive air quality management, it is necessary to take action by analyzing the monitoring data. Measures such as emission control, clean energy use, sustainable transport, waste management, and awareness-raising efforts can help in reducing the effects of air pollution. However, as each region and city has its unique problems and requirements, local governments and environmental authorities need to develop policies and projects to address specific situations.
In cities, which are responsible for 78% of the world's energy and 60% of greenhouse gas emissions, various methods and technologies can be used to treat outdoor air. One of the most common approaches to this is vegetation, which acts as a natural filter and can effectively trap particulate matter and absorb gaseous pollutants.
Photobioreactors, which have shown potential for environmental sustainability in recent years, are a continuous area of research as they can reduce greenhouse gas emissions by absorbing carbon dioxide from the atmosphere. Photobioreactors have the potential to contribute to the reduction of air pollution in several ways. While they do not directly address all aspects of air pollution, they can indirectly affect air quality through their potential for biofuel production, as well as their ability to capture carbon dioxide and produce oxygen.
In the designs, the facades of the buildings are integrated with photobioreactors and transformed into effective areas for energy production, and the effect of the façade elements in sustainable buildings increases. Algae growing in reactors convert the building's wastewater, absorbing carbon dioxide released into the environment during photosynthesis. In addition, the bioenergy produced from algae with the help of photobioreactors is also used in the energy consumption of the building. Thus, the structures are close to zero carbon, and energy efficiency is ensured.
"Exterior Curtains" Purifying the Air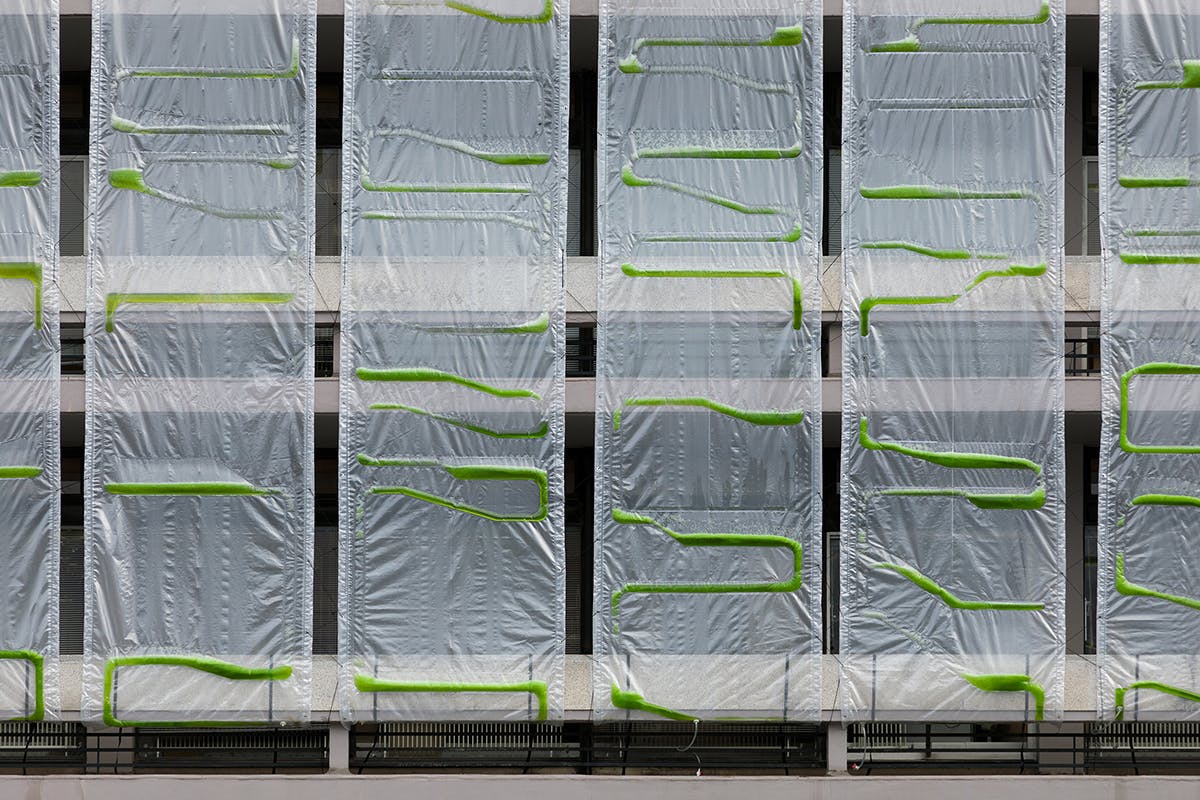 The product, called "Photo.Synth.Etica", was installed on the outside of the first two floors of the building called "Dublin Castle" in early November 2018. The design used large bioplastic coverings, each 6 meters long, and channels filled with algae between them. This concept envisions a future in which buildings can be alive and produce energy and consume pollutants in the air.
The application is as follows; Polluted air enters from the bottom and fills the channels where the algae are located. The algae collect the air-polluting components in the carbon dioxide, and clean oxygen is released from the top of the product. The fact that the channels follow an inclined path also helps to get maximum efficiency from the flow. In practice in Dublin, the product collected one kilogram of carbon dioxide per day. This is almost equivalent to the performance of 20 large trees.
Bio-reactive Façade
The SolarLeaf façade was first installed in 2013 at the BIQ house at IBA in Hamburg. To form a secondary façade, 129 bioreactors measuring a total of 2.5m x 0.7 m were installed on the southwest and southeast facades of the four-storey residential building. The SolarLeaf provides about a third of the total heat demand of the 15 homes in the BIQ home.
It is estimated that the photobioreactor facades of this building will produce 30 kWh/m2 of bioenergy and 150 kWh/m2 of heat energy every year. All facades reduce the building's CO2 emissions by 6 tons each year, and 2.5 tons of CO2 is absorbed by biomass. In this photobioreactor system, the efficiency of the conversion of light into bioenergy is 10% and the efficiency of the conversion to heat is 38%.
Air purifiers and filters are other effective methods used in air-cleaning environments with high air pollution. Portable or stationary air purifiers equipped with high-efficiency particulate air (HEPA) filters can effectively remove fine particles, allergens, and some gases from the air.
Filter Cube
It helps improve air quality in places with high levels of air pollution, such as traffic intersections or busy streets. In fact, the use of filter cubes in sensitive areas, such as school gardens, playgrounds, or restaurant floors in shopping malls, helps to effectively reduce air pollutants. Filter cube technology can also be integrated with existing infrastructure such as bus stops and billboards.
Dispersed filter cubes are capable of filtering more than 80 percent of the nitrogen dioxide (NO2), ozone (O3), and fine dust in the drawn ambient air. The core of the technology is a newly developed combi-filter that includes a filter layer that traps particulate matter. Due to the large surface area of the highly porous additional activated carbon material, NO2 and O3 adhere to the filter surface very effectively, especially with a low-pressure difference and energy consumption.
CityTree
CityTree is the world's first biotech fine dust filter for urban areas. Integrated moss modules bring the forest into the city and provide noticeably and noticeably fresh air. CityTree can clean and cool the surrounding air thanks to its automatic irrigation and ventilation system. Independent research shows that up to 82% of the fine dust in the air is filtered directly on the algae and the air is also cooled to 4°C. In the Wandsworth area of London, CityTree cleaned 1.3 million cubic meters of air in 10 weeks. 65 grams of ultrafine particles are filtered. This equates to 14,400 kilometers of car travel.
In conclusion, reducing outdoor air pollution is crucial for ensuring a healthy environment and a sustainable future. Monitoring outdoor air pollution levels and identifying sources are essential steps in addressing this issue. Taking action based on monitoring data is necessary for comprehensive air quality management.
These auxiliary methods, such as vegetation integration, photobioreactors, air purifiers, filter cubes, and CityTree, offer effective means to combat outdoor air pollution. Implementing these methods in combination with emission control, clean energy use, sustainable transport, waste management, and awareness-raising efforts can contribute to a cleaner and healthier environment. It is crucial for local governments and environmental authorities to develop policies and projects that address the specific air pollution challenges in their respective regions. By employing these strategies, we can work towards achieving cleaner air and securing a sustainable future for generations to come.